Fitness Training
Fitness Training classes are a fun and effective way to maintain and improve your health, fitness and wellbeing.
Indoor Cycling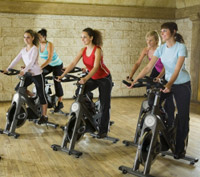 With no coordination required, Indoor Cycling is a 45 minute motivational class on stationary bikes.
Indoor Cycling gives a cardiovascular workout, placing demand on the lower body. The routines are designed to simulate terrain and situations encountered in actual bicycle rides, including hill climbs, sprints and interval training. The ultimate calorie burner!
Suitable for all fitness levels. We have limited bikes available so please be early.
* Term Based.
LLLS Circuit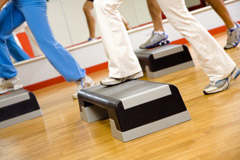 A 45 min interval circuit class based on alternating between strength training equipment with aerobic stations. Each station is timed before moving onto the next exercise equipment.
Qualified Fitness Instructor will be present to guide you, ensure correct posture and technique is maintained and create a positive atmosphere.
Circuit Express gives individuals the opportunity to work at their own pace and strive towards a higher level.
More information on Circuit Training
Gentle Moves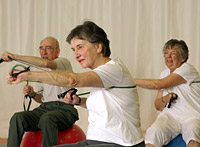 Gentle Moves is the ideal class for senior adults, pre-diabetic or those suffering from diabetes or requiring rehabilitation post surgury or injury.
Exercising with fitness equipment to improve musculoskeletal health, personal independence and emotional wellbeing, Gentle Moves is a strength training class supervised by a qualified fitness instructor and Registered Nurse (Division 1).
Living Longer Living Stronger™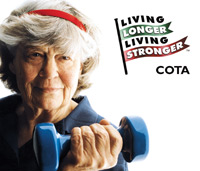 As we get older we lose muscle strength and gain fat, however most people don't know that this is the result of inactivity rather than age.
Strength can be regained and maintained regardless of age by participating in Living Longer Living Stronger™, the Council on the Aging (COTA) endorsed strength training program.
Download the Living Longer Living Stronger brochure (337 KB)
Teen Circuit
Designed for the young adolescent to remain active during their teenage years, Teen Circuit is all about exercising in a group format while utilising your own body weight as well as cardio and strength training equipment.
Teen Circuit classes are supervised by a qualified fitness instructor in children's fitness.
A seriously fun class!
Plyometric & Circuit Training for Sport
Looking for variety. Wanting to get the best out of your players. Why not implement power, speed and agility into your training session?
Plyometric and Circuit Training has been shown to be one most effective methods to improve "Power" as performed regularly in sports such as football, netball, basketball plus many others.
More information on Plyometric & Circuit Training for Sport
WorkSafe Provider - Remedial Exercise
Suffering from an injury or recovering from post-operative procedure? By liaising with your medical practitioner, physiotherapist or other health professional, a careful planned program of therapeutic exercises will be implemented specific to your needs in return to a pre-injury level.
Returning to a regular exercise program is extremely important following any surgical procedure or injury. Exercise is essential in preventing further complications and other risk factors.
As a qualified Registered Nurse, Division 1 and professional fitness instructor its my duty of care to ensure communication is made with your health practitioner in order for a safe, effective and a careful planned program is implemented.
Pilates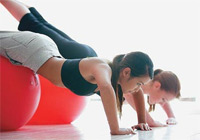 Strengthen your core, abdominals and back. Enjoy a stress relieving relaxation period.
Strengthen and stabilize your body whilst exploring mind, body control and breathing skills with Pilates mat and equipment method.
This class incorporates beautiful gentle music, meditation and relaxation techniques.
Personal attention for those beginners entering an exercise program or those re-entering exercise after experiencing a period of sedentary lifestyle.
Download the TAT Studio Pilates flyer (514 KB)
Aqua Classes - During Terms 3 & 1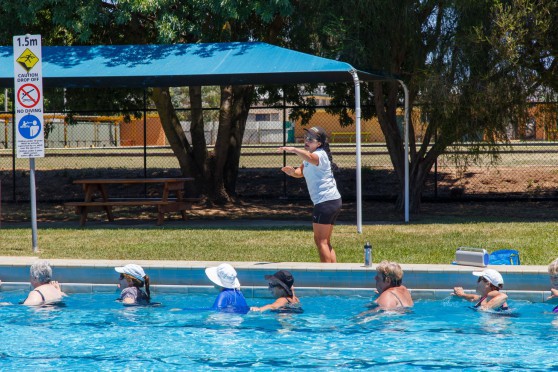 TAT Studio is offering Water Waves Aqua Aerobics and Deep Water Running as part of Greater Shepparton City Council's "Activities in the Park" program. Water Waves Aqua Aerobics and Deep water Running are run outdoors utilising Tatura Aquatic Centre.
Water Waves Aqua Aerobics involves exercising in shallow water utilising the natural resistance of water.
Deep Water Running is exercising in the deep end of the pool with the use of buoyancy equipment.
A Water Aerobics class provides a total body conditioning workout for all abilities. Cost of the class is just the pool entry fee for a swim.
For more information visit the Greater Shepparton City Council website closer to October or contact TAT Studio.