Health — Fitness — Wellbeing
About TAT Studio
By incorporating resistance and cardiovascular training as part of your lifestyle you will improve many aspects of your health, wellbeing and general fitness.
With a studio/gymnasium setting, clients are able to exercise at their own pace in a welcoming gym environment.
With the increase in childhood obesity, heart disease, osteoarthritis, diabetes and environmental stresses, it's our passion and duty of care to deliver a safe, simple and effective fitness program, to reduce these risk factors.
About Lisa Niglia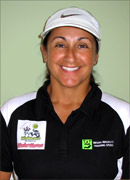 Luisa (Lisa) Niglia, Accredited Trainer with Physical Activity Australia with Certificates in Gym Instructor, Personal Trainer, Group Exercise (Freestyle) Aquatics Instructor and Children's Trainer since 1993. As a provider for the Living Longer Living Stronger Strength Training Program, Lisa is, qualified to instruct older adults having completed a senior program and obtaining a Falls Prevent Certificate through Monash University. Lisa is also a Member with Diabetes Australia and Network Fitness Industry.
Lisa also has a Diploma of Applied Science-Nursing (Div 1) completing in1989 and is currently employed with GV Health-Tatura Hospital. Lisa is one of the founders for organising Tatura Hospital's annul Fun Run which thousands of dollars has been raised. Lisa has extensive experience in Acute and Aged Care.
With compulsory updates in the Health & Fitness industry, Lisa regularly updates her Basic Life Support annually and maintains competencies in Diabetes, Health and Physical Education. She also attends compulsory Professional Development Programs (PDP's )through leading facilities such as Physical Activity Australia, Australian College of Natural Medicine (ACNM) , Australia Fitness Network and AUSMED just to name a few. Lisa also maintains mandatory updates with Working With Children's Certificate (WWCC), Police Checks and Education in Safe Guarding Children and Older Adults.
A devoted mother of three and a supportive husband with a thumb print on his forehead, Lisa is an active community member, who is currently serving on the board of Valley Sport, Murchison Australia Day Committee and has served on numerous committees in the past.
Lisa is an associate junior tennis coach and is registered with Tennis Victoria. She is involved with junior tennis- Hot Shots program delving at primary schools and local tennis clubs. Lisa is a Life member for Dhurringile Tennis club and newly retired committee member. Lisa has been acknowledged for her outstanding work in the past with Stanhope Tennis Club. Lisa received a Nomination for Volunteer of the year through Tennis Victoria in 2017.
Lisa has a passion for health, fitness and wellbeing and enjoys her sport. By keeping fit, Lisa plays competitive tennis, regularly trains and participates in triathlon events.
Hours of Operation
| | | |
| --- | --- | --- |
| Monday | 5.00am | 11.00pm |
| Tuesday | 5.00am | 11.00pm |
| Wednesday | 5.00am | 11.00pm |
| Thursday | 5.00am | 11.00pm |
| Friday | 5.00am | 11.00pm |
| Saturday | 5.00am | 11.00pm |
| Sunday | 5.00am | 11.00pm |
Causal Entry and visit pass holders only available during the start of each Group Fitness Class. After that Access to gym for members only.
Appointments required for gym renewals and memberships. Contact Lisa on 58242884 or 0428266310.
Please Note
NOW OPEN 7 DAYS A WEEK. FITNESS TRAINING CLASSES ARE TERM BASED